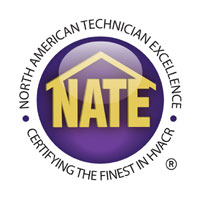 Air conditioning systems are complex machines that include various parts and components, but the swamp cooler is particularly important. This part, located inside the air handler, absorbs heat to create the cool air your AC unit releases.
Without a functioning swamp cooler, there won't be any cold air to circulate, and that's where our skilled HVAC contractors at Canyon Plumbing & Heating can help. We provide timely swamp cooler repair and replacement services in Boulder, CO. We're standing by to ensure you can keep your home cool regardless of the temperature outside.
We are also experts in refrigerant leak repair. Get in touch with our team to schedule service!
When Do You Need Swamp Cooler Replacement?
Swamp cooler repair may not be sufficient in some situations, and AC swamp cooler replacement might be necessary. Most AC systems last 10 - 12 years, but it may not be worth replacing your swamp cooler if your AC is older than eight years old.
Common signs that indicate your AC swamp cooler may need replacement include:
Frequent breakdowns
High energy bills
Reduced indoor air comfort
Refrigerant leaks
Unusual noises such as banging or hissing
We'll promptly attend to your swamp cooler problem and leave your AC system working as it should.
Reliable Boulder AC Swamp Cooler Cleaning Services
We can provide thorough swamp cooler cleaning services to increase your HVAC equipment's life span.
Dirty swamp coolers make it more challenging for your AC to cool air, causing a loss of efficiency and higher energy bills. Our team will clean your unit's swamp cooler safely and efficiently without bending or causing damage to the component.
We recommend scheduling swamp cooler cleaning at least once a year and replacing it every 8 to 10 years to keep your HVAC equipment functioning correctly. If your AC isn't performing adequately, call our team at Canyon Plumbing & Heating in Boulder. We'll send a team of qualified HVAC technicians to assess your AC problem and provide a reliable, cost-effective solution.
Does your AC system need filter replacement? We are the right people for the job—call us to schedule an appointment.
Why Choose Canyon Plumbing & Heating?
We are a certified swamp cooler cleaning and repair company serving Boulder and the surrounding areas. Our team of highly-qualified, skilled HVAC technicians is OSHA-trained and NATE-certified to deliver the best HVAC services—and that includes evaporator repair, replacement, and maintenance.
We only use the best diagnostic tools and equipment with a focus on quality and safety. You can count on us for:
Clean and courteous service
Knowledgeable technicians
On-time arrival
Upfront pricing